Better Blog Post = Better Business & More Followers
Tuesday, November 19th, 2013 at 10:44 am
Try this simple trick to make your blog posts better: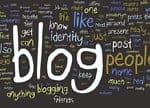 Write like you're telling a friend how to solve a problem. 
That's it. Just focus on a real person and solve their problem. I learned this when beginning my broadcast career.
A very successful Baltimore morning DJ told me to speak to a real person not a microphone. I started doing that. My person was a lady from the neighborhood. Her door was always open, coffee pot on, and folks dropped by all day long. She was the neighborhood problem solver. I wonder if there are any like her today.
Think of a friend when you write. Use the same words you'd use to speak to them. Keep it simple. Look at the first nine lines of this post. I wrote these lines at the 5th grade level. That means anyone in the 5th grade understands the words. 80% of the people reading the first nine lines understand the meaning.
Auto insurance policy writers write for lawyers. Ernest Hemingway wrote at the 5th grade level. Betcha more people read Hemingway than their auto insurance policy.
When you write your blog posts this way you develop your voice and that helps develop a following. People trust other people like themselves. There's a saying that when you give a talk 60% of the audience focuses on how you look, 30% pay attention to how you sound, and 10% follow what you say.
At a recent home business summit a variety of impressive speakers delivered outstanding information. They stirred many in the audience to action. However, one speaker captured everyone's attention. He is a top Internet money maker who wowed the audience with a great presentation. He also was the only speaker wearing a suit and tie. He had the appearance, delivered a great presentation, and presented tremendous content.
You can be the same with your written words. Speak (write) simply to get your ideas across. Every blog post needs three points:
Focus on what the reader wants to know, not just what you want to say.
Give valuable content – don't blather like you're writing an ego blog. Nobody cares about that. People read your posts to learn something.
Share good help sources.
Think of a close friend coming to you with a problem; say they just lost their job. They want understanding of their problem. They also want to hear everything will be okay. Now comes your part. Look at our three items above:
Your friend wants to know what to do now that they lost their job. Focus your response on the friend and his/her problem.
Keep your comments centered on getting your friend on track to another job. Share what you know about finding a job now. Get them involved in the solution.
Everyone has a network they go to for help with various problems. Open your networks to help your friend get started finding a new job…a better job.
You can apply this method to business blogs. Write for the customer. A customer has a problem…your product/service is the solution. Focus on the three steps.
A customer problem
You understand the problem and know the solution (establishes your credibility)
The solution (making the sale)
Now, jump start your blogging skills with a great blogging course. I recommend Blogging With John Chow. I use it frequently to keep my skills fresh.
Follow & Like on  Facebook
Follow on Twitter
Connect on LinkedIn
Filed under: Business
Like this post? Subscribe to my RSS feed and get loads more!