12 Ways To Clear Out Business Clutter
Tuesday, May 16th, 2017 at 9:48 am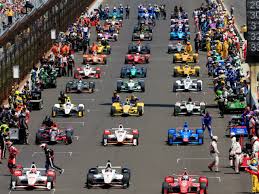 Memorial Day each year the Indianapolis Speedway track announcer says, "Gentlemen, start your engines" to begin the famed Indy 500 motor race. Of course when female drivers are in the race the call is "Ladies and Gentlemen."
I want you to use those words and get focused on business. Make Memorial Day when you restart your business engine. Clean out your business closet. Get rid of stuff you do not use. Cut the clutter impacting your success.
Springtime is when many of us lose the zest of our New Year energy and commitment. We don't mean to. It just happens.
Weather draws us outdoors. For many vacation and recreation planning take center stage. Change of season can make it difficult to focus on business as we should.
So, let's refocus today and take care of holdover tasks we keep putting aside.
Use this list and start your business engine:
Cut the clutter – clean up your work space. Remove distractions. Be spartan in your approach.
Write down your daily schedule and stick to it. Be like Stephen Covey – do not list your priorities, prioritize your list. Do what is most important first, each day, each week. Stop doing what is convenient. Do what is important. If a task does not contribute to revenue production Do Not Do It! 
Focus on what you can influence, not on what is interesting. When I say clean up things I do not mean engage in busy work instead of revenue producing work. Do what produces revenue. Too many people get into online marketing believing they can make $$$$ without work. Not true my friend. Everything of value involves work to achieve the value.
Review the year and address those business items you may have put off . . . . no matter how trivial. Put them to bed! Complete the  tasks or drop them from your to-do list.
Be efficient – Clearing out your business is like cleaning a closet. If you haven't worn something in a year donate it to Goodwill or drop it down the trash chute. Get rid of business clutter the same way.
Freshen your web sites. Many become stale after a while. Consider redesign. Or simply move ads around. Make sure you stay true to your blog post schedule.
Affiliate marketers – now is the time to get your summer sales ready for launch. Then set up your back-to-school promotions and those coming later in the year. I already have Halloween, Thanksgiving, and Christmas in the works.
Bloggers – double-check your schedule and boost SEO. Click to read an excellent article with tips to increase your ranking.
Check your site links. Make sure none are broken. This one item cost me several sales last month.
Affiliate marketers – review agreements. One of my better revenue generators recently changed its compensation package. As a result I'm changing my ad program for that product.
Review your social media schedule. Are you posting often enough? Or too often? Do you need a social media scheduler? Are your posts meaningful? Make sure what you put online matches your ideal customer.
Once everything is in place and you are controlling your business click here.  That is an offer you cannot ignore.
Tagged with: affiliate marketing • best blog post • blog for business • Business • home business • internet business • make money online • making money online • Marketing • online business • selling online • SEO traffic • success • work from home
Filed under: Blogging • Business • SEO • Social Media Marketing
Like this post? Subscribe to my RSS feed and get loads more!