Here's Why Your Emails Are Ignored
Monday, July 10th, 2017 at 9:44 am
Here's excellent advice for infusing your email campaigns with energy and more opens.
Michael Brenner is an excellent resource for content marketing advice. This article from MarketingInsider Group.com hits the mark with solid reasons why your email campaigns may be on life support.
You do yourself a great disservice spending time crafting email messages that don't deliver results. Remember that your communications have to be focused on building relationships and delivering value.
Why would anyone want to get weak, ill timed, and valueless emails from you?
People do business with people they like, people who act like they want their business, people who deliver what they promise and don't give them a headache.
Do your email campaigns deliver what you promise? If your niche is weight loss do you actually give valuable information leading to sustained weight loss? Or are you simply sending "buy this" emails?
Value is created by you. Value is not accidental. The email recipient determines the value of the message, not you. When you have a relationship with your list members you understand expected value.
If you know your niche you understand the problems and positives of people interested in that niche.
The ball is always in your court, so to say. The burden of communicating effectively is yours and yours alone. Read this excellent article and improve your email campaigns. Then you can monetize your online efforts.
4 BIG REASONS YOUR EMAIL CAMPAIGNS ARE BEING IGNORED
If you put email messages, Facebook posts, Tweets, and blog posts in a room and told them to duke it out, last man standing style, I guarantee you, email would win. Your email messages are far more powerful than your other digital channels when it comes to making a marketing impact.
Blogs may generate leads like a machine and social media can grow your brand's reputation like a gardener with two green thumbs, but your email messaging is the glue that keeps the whole content marketing strategy together. This is because email is where you are reaching out to them, a still necessary concept in the era of inbound marketing.
Email drives more conversions than both search and social. Your messages are 5 times more likely to be viewed than your Facebook posts, 40 times more likely to lead to customer acquisition than your well-planned social media campaign, and (take a deep breath for this one), the potential ROI of email marketing is 3800%.
It is email that keeps your leads interested, makes your existing customers feel involved, and even serves as a jump off point for your thought-provoking blog posts, can't-miss videos, and other content that your curated contact list needs to see.
Your email campaigns are what let people know what is going on, from promotional deals to industry news, and maintain your relevance more than anything else. From B2B email newsletters that hook your quality leads to those elegantly formatted transactional and follow-up emails that work your customer retention magic, email marketing is more effective than many businesses are aware of.
Are you getting $38 dollars back for every $1 spent on email? If your emails aren't getting opened and you aren't getting the acquisitions, conversions and returns that this channel is capable of offering, then it's time to examine your methods to find out why your email campaigns are being ignored.
1. YOUR HEADLINES AREN'T IRRESISTIBLE
Think about it. Most people check their email every day. Especially with mobile email, it is more convenient than ever to sift through our inboxes whenever we feel like it. Lots of email interaction happens at the office – a report by the McKinsey Global Institute found that 28% of the average work week is taken up by email.
But, more relevant for marketers, it's also happening while at various points throughout the day. It is estimated that half of Americans check their email while sitting in bed. 42% are checking while in the bathroom.
We can conclude that your target market is opening and reading some messages. If people aren't opening your email, it is because your headlines aren't enticing enough. We are clearly glued to our digital communications. As long as you have something of value or interest to share, you're going to get attention.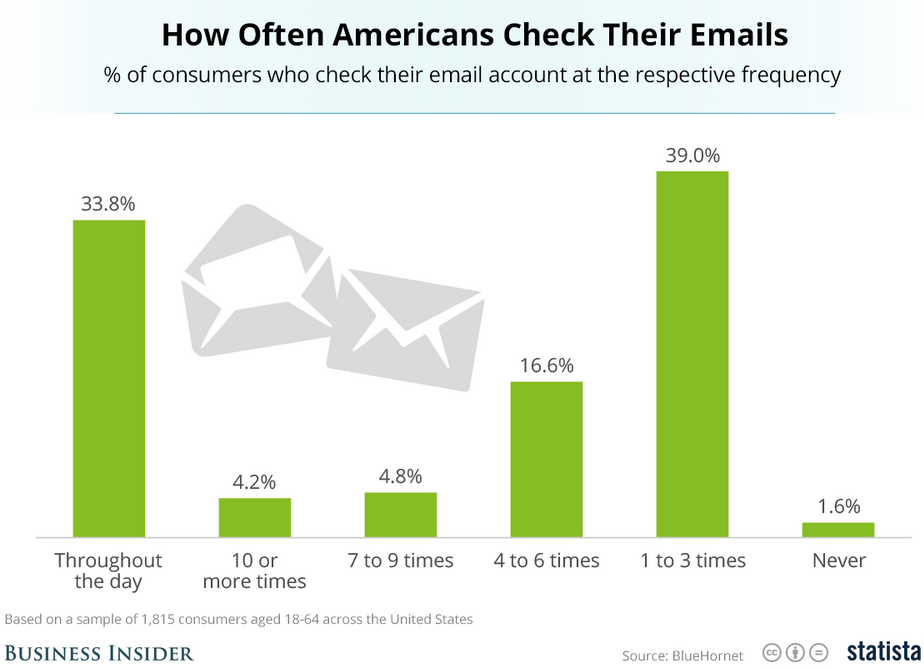 And, that's the key to creating an irresistible email subject line. Hinting at something of value or interest. You want your recipient to think, 'I better open that one and see what it says. Don't want to miss out on what's inside."
Here are some examples:
Did you know this?
Don't make this mistake! (I did)
Save $52 – Today!
Question about your career/work/health/specific goal…
All of these subjects evoke a natural response of curiosity. Every recipient isn't going to click on your message but emphasizing the importance of intrigue in the subject line is going to increase your email open rates.
Make your subject lines promise something more inside, without over promising of course. False promises are a great technique for shortening your contact list.
2. YOUR EMAIL ISN'T PRIMED FOR MOBILE
With so many emails being opened on mobile devices, anywhere from 20 to 75 percent, depending on your industry, it's important to craft email campaigns that are mobile-friendly. What does that mean? Basically, keep things short and concise.
Keep your subject lines short. Mobile devices tend to only display between 25 and 30 characters.
Screen sizes are small. The smaller your email content, the more likely it is to be read.
Leverage your pre-header text. That first line of copy in your email will show up along with the sender's name and subject line on a mobile device. Use this to your advantage.
CTAs should be glaringly obvious – just in case someone is checking their email while doing other important tasks. One, in some cases two, CTA buttons are appropriate. Any more than this will dilute your messaging in the limited space you have to work with.
Here's a great example Campaign Monitor shared of CTA design in an email for Freshbooks: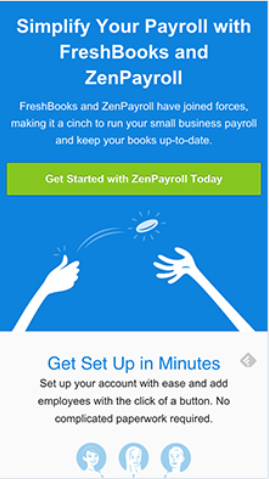 It's easy to recognize and click on, even if you are in the middle of chopping veggies or walking home from work.
3. YOUR TIMING IS OFF
This is where marketing automation offers such an immense value. You can time when your emails are sent, creating a seamless experience for your target recipients. It does matter on what day and at what time your emails are being sent if you want them to not be overlooked.
From birthday emails offering a special deal, to timely reminders about a service about to expire, when you send can be the difference between meaningful and meaningless. Hubspot shared an excellent example of the power of timing – Eater Boston sent out an email at 6:45 pm on a Wednesday night titled, "Where to Drink Beer Right Now." This type of strategic timing can make your email metrics go through the roof.
4. YOU ARE NOT BEING PERSONAL ENOUGH
Personalization is paramount when it comes to email marketing. Simply adding an element of personalization in the subject line and within the content can dramatically increase your open rates and click rates.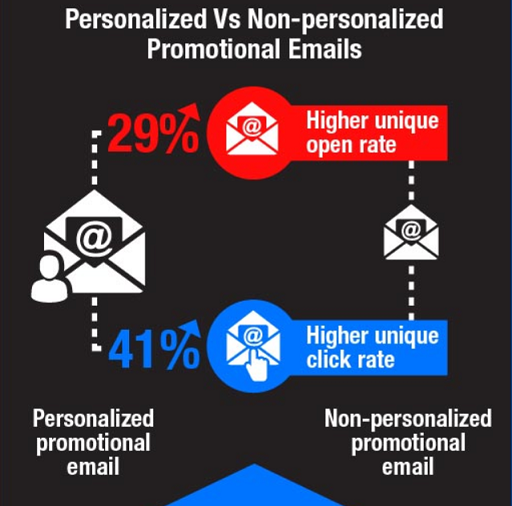 Email personalization is a true digital marketing art form in its own right. There are plenty of techniques you can use and they all revolve around understanding who is reading your email and segmenting. Consider what tone of voice your target recipients will be most interested in relating to – casual, uplifting, professional, sarcastic?
It's also important to pay attention to content. Depending on the business you are marketing for, it may make sense to segment your contact lists based on what products or services your buyers and leads are interested in. For example, a software company may send out completely different weekly emails for customers who have subscribed to varying tiers of service.
A/B TESTING WAS BORN TO HELP YOU CREATE BETTER EMAIL CAMPAIGNS
Email marketing is an effective digital marketing tool that you can't afford to neglect. If you're not getting the results you should be, as with all facets of modern marketing, then it's time to refine your strategy. Make adjustments – or start from scratch – in order to motivate your contacts to open your emails, read what you have to say, and click on your CTAs to move further down the sales funnel.
When in doubt of what will work, A/B testing is a marketer's best friend. From colors and timing to subject lines and tone of voice, don't hold back when it comes to good old A/B testing to ensure you are crafting the most impactful email campaigns possible to engage, inspire, and relationship-build with your market.
Source Links for images: Business Insider, Campaign Monitor, Invespcro, Pixabay 
-30-
Tagged with: affiliate marketing • blog for business • Business • Digital Marketing • home business • internet business • Internet marketing • make money online • making money online • online traffic • selling online • work from home
Filed under: Blogging • Business • Make Money Online • Success • Traffic
Like this post? Subscribe to my RSS feed and get loads more!