Top 10 Email Marketing Must-Haves
Tuesday, March 17th, 2015 at 8:36 am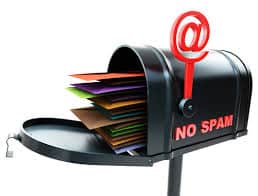 Anna Pfeiffer , a marketing strategist at marketing automation services provider Bronto Software, identifies her top 10 must-have components for a successful email marketing program. Here they are:
Creative and content that are engaging to your subscribers:Convey your brand personality and interact with your subscribers, Pfeiffer said. For example, ask them questions, seek out their feedback. She cited three examples of retailers effectively using engaging content: West Elm offering design tips to its subscribers; Crate and Barrel's seasonal tips for outdoor furniture care; and Uncommon Goods providing background information on where its products are sourced from.
An abandoned cart series:I've seen these programs deliver up to a 60 percent lift in conversion rate vs. a standard email campaign, Pfeiffer said. Industry research has shown that sending the first abandoned cart email one hour after the event, followed by a second email 24 hours after the event (if no action was taken with the first email), followed by a third email a week after the abandoned cart (again, if no action was taken on either of the first two emails) has proven most successful, Pfeiffer noted.
A welcome series:Take advantage of the opportunity to welcome new subscribers and tell your brand's story, while at the same time encouraging and inspiring subscribers – and possibly incentivizing them – to generate either their first purchase or, more likely, their next purchase. A welcome series can produce conversion rates nearly double standard campaigns, Pfeiffer said.
A remarketing strategy:One of the simplest ways to do this is to resend the same email campaign to nonopeners three days to five days after the original email, but with a different subject line. The creative and copy can be exactly the same. This tactic will drive additional conversions, Pfeiffer said.
A post-purchase series:Once a subscriber has made a purchase, you need a strategy in place to get that customer to come back. Leverage purchase history data (e.g., date of last purchase, what was purchased) to send relevant post-purchase messages – thank-you messages, incentives to secure their next purchase (10 percent off), warranty information, product review requests, complementary product/bounceback offers.
A birthday message:Send your subscribers a message on their birthday, Pfeiffer said. While the message doesn't have to be promotional (if not, you can use this opportunity to have some fun with the message), if it is, position the message as a gift, not an offer. For example, say "we're crediting $10 to your account" rather than "take $10 off your next purchase," Pfeiffer advised. Birthday messages can deliver a 25 percent to 35 percent lift in conversions vs. a standard message.
A lapsed purchase series:Know the average time between purchases for your customers, then use this data to reach out to subscribers who are past that average. Try to inspire their next purchase through recommended product offers, escalating offers, limited-time offers, among other re-engagement techniques, Pfeiffer said. These types of messages can see upwards of a 25 percent increase in conversions.
Automated re-engagement:Be creative with subject lines to drive engagement from lapsed subscribers (i.e., those who haven't opened or clicked in more than six months, a year). This is also a good time to test a "make up or break up email," Pfeiffer said. It's a necessary part of list hygiene, and will make your list strong going forward by eliminating names that no longer want to hear from you.
A never-purchased series:While most of your subscribers will have likely made at least one purchase from your brand, you will have some that haven't. Identify how long it takes, on average, for a customer's first purchase, then segment your nonpurchasers who are past this average and message them with an offer to drive their first purchase. You can see a 5 percent to 10 percent lift in conversion with this strategy, Pfeiffer said.
Product recommendations:Take a page from Amazon.com's book and insert product recommendations into your emails, Pfeiffer said. Involve your merchandising team to identify complementary products and use purchase history data to automate this process. Emails with product recommendations can drive up to a 40 percent increase in conversion vs. a standard email campaign, Pfeiffer said.
# # #
JVZoo Product Feed

Explaindio Video Vault

How To Get Whitelabel Animated Explainer Video Templates And Sell Them To Online and Offline Business On Autopilot.
Filed under: Business
Like this post? Subscribe to my RSS feed and get loads more!