Tuesday, November 19th, 2013 at 10:44 am
Try this simple trick to make your blog posts better: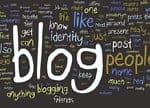 Write like you're telling a friend how to solve a problem. 
That's it. Just focus on a real person and solve their problem. I learned this when beginning my broadcast career.
A very successful Baltimore morning DJ told me to speak to a real person not a microphone. I started doing that. My person was a lady from the neighborhood. Her door was always open, coffee pot on, and folks dropped by all day long. She was the neighborhood problem solver. I wonder if there are any like her today.