Sunday, January 12th, 2014 at 1:37 pm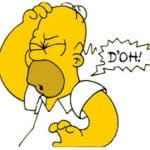 I committed a cardinal sin by not posting to this blog for a couple of weeks. Yeah, I took time off and did not set my auto posts before disappearing.  I forgot the primary rule related to 'measure twice and cut once'.
Sure, I double checked and verified all personal and property security were taken care of , BUT did not double check the business. Please learn from my mistake.