Friday, December 4th, 2015 at 12:00 pm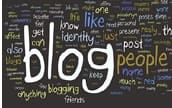 What makes a blog post worth reading? The answer begins with your "why". Why do you have a blog? What information are  you communicating? Who is your avatar – that perfect target for your message?
Those of us using the Internet for business often communicate with our customers and associates via a blog or vlog. We provide information of use to our readers. If our posts do not target our specific avatar's needs and wants we fail in our blog mission.
Here's an excellent tool for blogging well – Blogging With John Chow. This is the Internet's best-selling comprehensive training course. I refer to it often.
Blogging is important to online businesses. A key to success is knowing your tools and how to use them. Studies reveal we remember 90% of what we know well enough to teach.  Use your blog to teach and bring customers along. Teaching moments assure follow on and up sales.
Internet business success is often linked to teaching prospects the value of your products. Video is  great for demonstrating products and how to use them. When you give value prospects find you and follow you. That's SEO+. Use SEO properly and give value on your site. That's how to build a following.
A blog post no one reads is like the tree falling in the forest with no one around. Learn how to blog. Define your Avatar. Set your blogging schedule. Help readers find you with good keywords. I use two keyword research tools: Keyword Snatcher and Long Tail Pro for all my sites and blog posts. Check them out and learn how easy it is to up your SEO game.
I use the term SEO+  because, like my mentors I believe content quality trumps everything else. When you use solid SEO  tactics on top of good content you are then working with SEO+.
With each post I try to up my blog game. I want to be a better writer. There's no value added for my tribe if I do not give them solid information they can use and easily understand. After all, readers are giving me their attention. If I fail they go away. And that is not what I want.
Think of this: T-E-A-M. Make your blog Timely, with Easy to understand information that's Accurate and Meaningful. No one can ask for more.
So, what is the perfect blog post? It's explained well in the following graphic. Save it for study. Learn it well enough to teach it. Click on the graphic to view in full page.
JVZoo Product Feed

Explaindio Video Vault

How To Get Whitelabel Animated Explainer Video Templates And Sell Them To Online and Offline Business On Autopilot.